"I had a friend who was studying abroad and I wanted to experience that – life in a different country. Also, it had to be in Europe, as Europe has all this diversity of culture, traditions, languages", says Jhosua Sebastian Hermosa Jaramillo from Ecuador, studying public governance at KTU Faculty of Social Sciences, Arts and Humanities.
After school, Jhosua was considering becoming a professional football player, and was trying the life of a professional sportsman for a while: "I was studying online and was playing football, but it was quite different from what I had expected".
Jhosua admits that this made him want to try a "normal" student life. This decision was encouraged by his friend, who was studying in China and was telling Jhosua about her experiences of living far from home.
As a sportsman, he decided to take a challenge – for the first time to leave home for another country, to live and study there. In addition to that, Jhosua's younger brother decided to come together.
"It was not easy for our parents", admits Jhosua, "but it's great to have him here; we have a really good relationship."
Almost NBA game experience in Kaunas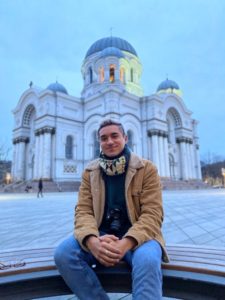 How come, from all European countries he chose Lithuania? Did he know anything about it?
"Of course, I knew Lithuania, we studied it at school. Plus, Lithuania is famous for its basketball", says Jhosua and adds that one of the most amazing experiences in Kaunas was watching playing Kaunas Žalgiris team live – it feels like you are watching an NBA game!
Lithuania is approved by educational authorities as a country, which universities' diplomas are recognised in Ecuador. Also, according to Jhosua, the balance between the quality of education and the price was great.
"I was checking universities in Vilnius and Kaunas, writing to them all. The Kaunas University of Technology replied really friendly, I liked the contact. From then on, everything went very easy – it was explained what you should do, what documents to send and so on", recalls Jhosua.
Cultural diversity is amazing
"Of course, I wanted it to be a country that has a good level of education. But I also wanted it to be the place which doesn't have many Ecuadorians. I wanted to be one of the first ones", smiles Jhosua.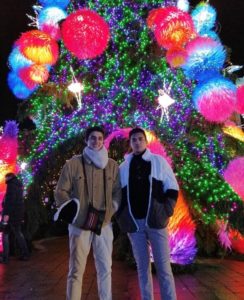 Although he admits he prefers Europe to America, Jhosua is really happy that the chosen study programme – Public Governance – offers both education from KTU and from the University of Central Florida, as it is first in Lithuania dual study programme between a Lithuanian and American university.
"At first I thought about studying engineering, but in my life, things are changing quickly. I checked my current study programme description and realised that this is a great opportunity for me. The professors are really friendly, trying to help and to understand. In our classes we have a lot of discussions and I love that – you can see a point of view of the lecturer, express your own opinion and discuss it with your classmates", says KTU student from Ecuador.
One of the greatest things for him are the possibilities provided by Erasmus+ (Jhosua plans on going to study in Prague for a semester) and the cultural diversity that one can encounter at KTU: "It is amazing – to be able to meet so many people from other countries even in your dormitory".
Online vlogs – a valuable source of knowledge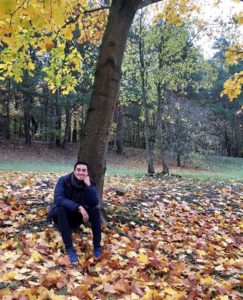 For Latin people planning on coming to Lithuania, he advises getting acquainted with our culture first. In addition to reading about the country, Jhosua was also watching videos from one vlogger in order to know what to expect.
"For example, she says that Lithuanian girls are really nice and that people are kind of cold. In the beginning, I thought so too, but you have to talk to them first, to break the ice and then people become really friendly. For example, I get old ladies in bus stops chatting to me, asking where I am from. It's really nice, I like that", says Jhosua.
He emphasises that our country is really safe.
"In Ecuador, if you want to take a walk at night, you have to be really careful to protect your things. Here it's safe. And very quiet", says Jhosua.
All is well, except that Lithuanians don't have normal fruit and music
Jhosua comes from Quito, the capital city of Ecuador, which is high in the mountains and is prone to changing temperatures. However, comparing to Lithuania, the weather at home is amazing. So is the quality of fruit, fish and meat.
"I came home for holidays and kept saying to everyone, that in Ecuador we live in paradise. I guess you cannot see it until you leave home, but now I started to appreciate the quality of food that we're having and the weather. You may think that it's normal, but then, across Europe, one may see that the prices are higher than at home and the fruit doesn't taste the same", says Jhosua.
Another thing that is very different from home is the way people party. Lithuanians, apparently, have no good taste for music.
"The music that you listen to is quite boring – it's always some techno or electronic beats. I like to dance, I prefer salsa or reggaeton, which is common in clubs in Ecuador, but not here", says Jhosua.
Plans to apply the knowledge to solve problems at home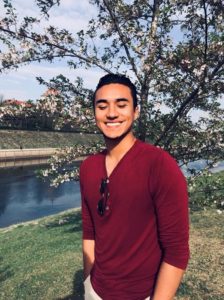 However, Jhosua really appreciates that he can easily travel across Europe – last summer KTU student spent in Barcelona, taking in culture and enjoying a challenge of hearing a slightly different language.
For a young guy, whose first trip outside of his home country was flying to Brazil to get a visa to be able to study in Lithuania, this is a great opportunity.
"In the future, I would like to study master's somewhere in Europe, also. Then I would probably go back to my country. I would like to be a diplomat or to work with international relations. Now, that I have travelled and lived abroad, I can see that there are things that might be done differently at my homeland", says Jhosua.
According to him, public governance studies at KTU have opened his eyes on the diversity of solutions, which may be applied, and to different opportunities, which might be explored.
________
KTU offers 19 Bachelor's, 25 Masters and 1 integrated study programmes in English in a variety of fields. If you are looking for a top-quality education in an open-minded, innovation-driven community for an affordable price, KTU is the right choice for you.
Check the available programmes and apply today.