"Being a member of the GIFTed community is my favourite part of studying in Lithuania", says Sona Yavrumyan, a first-year student of Informatics at Kaunas University of Technology (KTU). An avid fan of arts and football she enjoys a variety of free-time choices at KTU and the beauty of Lithuanian nature.
Although according to Sona, the weather in Lithuania is not as sunny as back home, it is comparable to England where she was living for two years before coming to Kaunas. In the United Kingdom, Sona graduated from a private school, where she studied with a full scholarship.
"After graduation from high school, I was looking for a university in Central Europe or in the Baltics, and I eventually came across KTU. From the website, the university looked very promising. Also, my dad had heard from the university before; he's a lecturer himself and suggested to give it a try", says Yavrumyan.
Although the girl has been studying in a specialised school for mathematics and physics since she was 11, she admits that it took time for her to start loving "hard" sciences.
"In the beginning, I struggled a lot, but that made me want to work harder. I gave up my dance and football classes to catch up with physics and mathematics. However, eventually, my interest in physical and mathematical sciences crystallised and then I didn't doubt that I would aim for a degree in STEM", says Sona.
More girls will come to ICT
"It always fascinated me that something as simple yet so elegant as mathematics shaped the fundamentals of all other sciences", says Sona.
At KTU she is studying Informatics. The young woman admits that it was challenging to choose a major, but after considerations and discussions with her family, she decided upon a practical degree – computer science.
According to the EU data from 2016, 16.7% of people working in the ICT sector are women. Although Lithuania has a relatively high percentage of women working in the field, especially doing less qualified, IT technician jobs, the percentage of girls graduating from IT field is lower than in the other Baltic States – 11.6% (in Latvia 23.7%, and in Estonia – 27%) of all computer science graduates are women.
"I have met many girls at KTU, who are really passionate about their technological degree, and I believe that more and more girls will come. I stand by the idea that stereotypical gender and family roles will eventually crumble and the girls will also be more willing to give "hard" sciences a try", says Yavrumyan.
Studying with GIFTed is very inspiring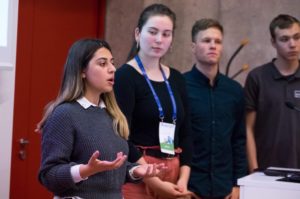 At KTU Sona is studying in the advanced study path with the GIFTed community for talented students. Together they participate in team projects, hackathons, summer camps.
"I have had opportunities to develop my soft skills, participate in different activities, study an extra module, all with some of the best students of KTU. All the members in the GIFTed community are smart, talented and very motivated about their studies and hobbies. I have to say, being a member of the GIFTed is my favourite part about studying in Lithuania", says the computer science student from Armenia.
Sona says that she'd found out about GIFTed before even coming to Lithuania while browsing the university's website. She was interested in the opportunity to expand her knowledge academically, to be exposed to many chances to develop personally and professionally, to make new friends and get a scholarship along the way.
"I made so many good friends after joining GIFTed, which is something I was struggling with the first month I was in Lithuania. I am definitely thankful to be a part of the community and I hope more international students will be joining it in the coming years", says Sona.
Kaunas is a very convenient city for students
"Very often I get asked the question of how I like Lithuania, and usually people are expecting me to say something negative. However, I
barely have any negative experiences!", Sona smiles.
Before moving here, she knew very little about Lithuania but was pleasantly surprised seeing how beautiful the country is. She was impressed by the seaside towns like Nida, the many green parks, Vilnius and Kaunas city centres: "Consider the fact that I have been to more than 20 European countries and have lived in England for 2 years, so you could say I am not that easy to impress!"
Kaunas, according to Sona, is a very convenient city for students and she prefers it to Vilnius. The cost of living is only slightly higher in Lithuania, compared to Armenia which makes it really comfortable and convenient to live here.
"I do not think I have faced any sort of economic challenges yet, it's actually the opposite – a big relief compared to the living costs in England!", says KTU student from Armenia.
Lithuanians are more reserved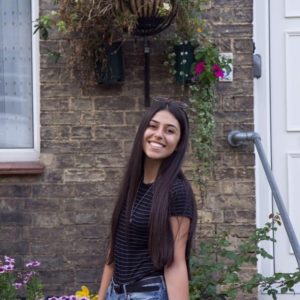 While living here, she mostly misses the feeling of physically being home and the weather.
"In Armenia, it's sunny most of the year, no matter the weather, while in Lithuania and England as well, it can be weeks till there's one sunny day", says Sona.
Asked about the differences between Lithuanians and Armenians, Sona laughs: "In Armenia with my 168 cm height I am considered a tall girl, here I do not even feel average!"
She also thinks that Lithuanians are more reserved at first, whereas Armenian people are extremely easy to make friends with.
"But even then, once you get to know them, most Lithuanians are very kind, nice and ready to help in case you need something", says Yavrumyan.
If you want to make friends, join student societies
Would she recommend KTU for her friends? Everyone must decide for themselves, thinks Sona. However, if you are looking for an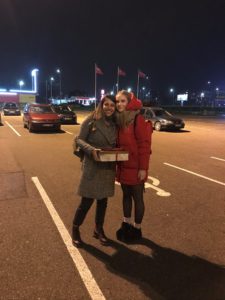 affordable, yet academically strong technological university in Norther Europe, KTU is certainly worth looking at.
"From my experience, at KTU the classes usually aren't big, the lecturers are friendly and willing to help with any questions you have. Also, you get a lot of free time outside the university", says Sona.
Although she likes that the university is flexible and the study modules in the Informatics Faculty are well adjusted with the job market needs, Sona feels that the availability of study materials in English and the joint organised activities between international and Lithuanian students could be greater.
However, the student is impressed by the variety of extracurricular activities and opportunities. She urges to look at the different KTU student communities – WANTed, GIFTed, ACTIVATed, UNITed, which can also be a great way to make friends.
Growing up in an academic family, Sona has been always encouraged to take part in a lot of different activities. She was swimming, dancing and playing football. Once, being only 10 she broke her nose serving as a goalkeeper! She hasn't joined KTU football team though, next to her studies, Sona is pursuing her passion for arts.
"I like learning more about art history, so I signed up for online art history lectures recently and I also attend the art-therapy lessons at the KTU Art Room, which is something I have really been enjoying", says the future IT professional Sona Yavrumyan from Armenia.
Looking for extraordinary study experiences? The admissions to KTU Autumn Semester 2020 are now open. Choose your studies and apply today.