This week saw the launch of ECIU University, the first European university where learners and researchers cooperate with cities and businesses to solve real-life challenges.
Celebrating the status of European University given by the EU, 11 members or the European Consortium of Innovative Universities (ECIU) met in Barcelona on 7 November to mark the official kick-off of their innovative university model.
"The ECIU University, as a part of the European Universities Initiative, is urgent and necessary. Our world is changing rapidly and universities must adapt. For Kaunas University of Technology, being a part of ECIU University gives us an excellent opportunity to innovate our education and university structure and to ensure that we are ready for the future. The ECIU University will change the way of delivering education, developing it from degree-based to challenge-based and this will radically flexibilise our educational offerings. Universities are Europe's keys to solving grand societal challenges and the challenge-based approach is a tool for achieving that", says KTU Rector Eugenijus Valatka.
Launch in Barcelona
ECIU University was one of 17 international initiatives selected by the European Commission after it announced a call for European Universities as part of the EU Erasmus+ programme.
All 17 university alliances convened in Brussels on 7 November to discuss the transformative role of the European Universities initiative for higher education. Tibor Navracsics, the European commissioner responsible for higher education, and European ministers responsible for higher education attended the event.
Later that day, the official ECIU University kick-off was hosted by Universitat Autonoma de Barcelona, ECIU's Spanish member. Using its facilities at the Bellaterra campus and the UAB Casa Convalescència in Barcelona, the ECIU University Board met for the first time on 7 and 8 November.
A new education concept
The project will receive 5 million Euros in funding over three years. The objective is to establish a new concept of an international university, going beyond what is Erasmus mobility programmes and international relations, with new academic, research and transfer methods which are more flexible, international and based on the resolution of real-life problems.
This first meeting in Barcelona represents the first step in defining the project's pilot programme.
Education will be based on solving challenges, embedded international mobility and collaborations among universities. Learners will get micro-credentials for short, very specialised training courses, and a competence "passport" which will provide an individualised account of what each student has learned and the skills acquired.
Research and Innovation
With regard to research and knowledge transfer, a series of living labs will be created in both physical and online spaces where university researchers will work directly with businesses and institutions in the definition and monitoring of projects.
Moreover, three Challenge Innovation Hubs will be set up in northern, central and southern Europe. They will be coordinated each by Linköping University (Sweden), Hamburg University of Technology (Germany) and Universitat Autònoma de Barcelona (Spain).
ECIU University is an ambitious undertaking, with distinctive features that make it unique:
Societal impact by solving challenges
At the ECIU University learners – students, researchers and employees from partner universities, partner companies and public organisations – join forces across disciplines to solve problems. Knowledge is offered through relevant academic courses, as and when needed, as well as through cutting-edge research.
In this pilot phase the ECIU University focuses on challenges related to the UN Sustainable Development Goal 11 to "Make cities and human settlements inclusive, safe, resilient and sustainable".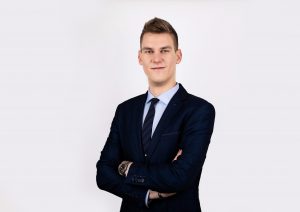 "One of top things that ECIU University will give is the practical approach to studies: real problems, real solutions, real results. So students can actually make a change. The second benefit would be the multicultural experience because you get an international education. And the third, mobility and the ability to pick the best parts from every country or university all over Europe, choosing your micro-credentials in universities that are strongest in their specific areas. Also, I completely adore the idea, that I, as a student, can participate in something that has such a massive scale. A students' voice can be heard not only in the university but also in Europe", says Augustinas Laimonas Bytautas, President of the Student Union at KTU.
Flexible, diverse and tailored education
ECIU University is based on learning modules of a high academic standard that are offered by partners from industry and society. New, open and easily accessible micro-credentials are created in collaboration with stakeholders.
Challenge-based education
ECIU University will set up Innovation of Education Labs – physical and virtual spaces where teachers can innovate and deliver classes, meet peers and share best practices. Innovation in education is fostered in-creation with students, industry and public organisations.
Challenge-based research and innovation
The ECIU University Innovation Hubs will be used as physical and virtual locations for innovation. The necessary impact is generated organising people from different disciplines and professions, with different knowledge, skills and experience. This will also foster global interaction among scientists, regional and international stakeholders.
In sum, this will create a new university that is driven by demands of society, citizens and industry which enables us to work together across the borders of Europe and come up with solutions for the sustainable development goals.
ECIU University partners
Members of the ECIU University include
University of Twente (coordinator, the Netherlands)
Linköping University (Sweden)
Hamburg University of Technology (Germany)
Universitat Autònoma de Barcelona (Spain)
Aalborg University (Denmark)
University of Aveiro (Portugal)
Dublin City University (Ireland)
Kaunas University of Technology (Lithuania)
University of Stavanger (Norway)
University of Trento (Italy)
Tampere University (Finland)
Associated partner: Institut National des Sciences Appliquées, France. Partner of the ECIU Foundation: Tec de Monterrey, Mexico.
Industrial stakeholders include Airbus, Cisco, Engineering Ingegneria Informatica S.p.A., Ericsson AB, Hella Lithuania, Intel, Lietuvos Energija, Lyse Group, NXP, Ponsse, Sandoz Industrial Products S.p.A. Gruppo Novartis, Sick AG, and Suez Environment, as well as in the case of the UAB, the city councils of Barcelona and Cerdanyola.
More information: https://www.eciu.org/eciu-university