"Feminism is not about hating men", says Dr Runa Chakraborty Paunksnis, Associate Professor teaching Gender Studies at Kaunas University of Technology (KTU) Faculty of Social Sciences, Arts and Humanities.
KTU teacher's and researcher's main research areas are gender and identity politics, media studies and subaltern literature. However, Runa is not only a scholar, but also creative writer and translator. Her poems have been published in several Bengali magazines; she has translated short stories from Bengali to English.
In the interview below, Runa Chakraborty Paunksnis talks about gender stereotypes and media's influence on their formation.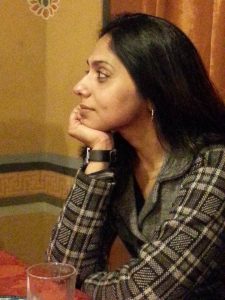 Why do you think gender and media are such important fields of study in the modern-day world?
There is a widespread misconception that feminism is about hating men. However, feminism is not about hating or bashing men. It tells us how we can create a better world on the basis of equality, respect, and love. A course on Gender Studies will help us understand that message. It will enable us to comprehend the structures of oppression that are crushing women and men everyday both within and outside our homes and community. Similarly, media rules the modern world. These days, everyone seems to be familiar with latest media technology. But one can be fully aware of its potential and pitfalls if media is studied systematically. A structured course can help one have a more in-depth and critical perspective. In this age of information explosion, it is not enough to acquire information. We should simultaneously know how to use that information for the benefit of all the sentient beings.
People in Lithuania, especially from the older generations, are aware of the traditionalised portrayals of Indian women in cinema. However, we are not so much informed about contemporary situation. How has the image of women changed?
In fact, Indian cinema has changed immensely especially since 1990s due to several socio-economic factors. Representation of gender is one area where this change is strikingly visible. The stereotypical portrayal of subservient wives and sacrificing mothers are now less common though not completely absent. Many mainstream films are now being made with woman/women as protagonist/s ("Lipstick Under My Burkha" for example). Current Indian cinema including mainstream commercial Bollywood is now more nuanced in terms of both form and content. Positive efforts are being undertaken to represent Indian women not merely as passive weaklings or victims of oppression. Instead, the trend of representing assertive female protagonists is more in vogue.
How much the topics that are trending in media and society are represented in Indian cinema?
Films foregrounding crucial issues like women's health ("Toilet Ek Prem Katha"/Tr. "Toilet: A Love Story", "Padman"), violence against women ("Lajja"/ Tr. "Shame", "Heaven on Earth"), professional careers for women ("Tumhari Sulu"/ Tr. "Your Sulu", "Neerja") and sexuality ("Ek Ledki Ko Dekha to Aisa Laga"/Tr. "How I Felt When I Saw That Girl") are not only being made but are also being appreciated by average movie-going audience. However, this does not mean that Indian cinema is not influenced by patriarchal codes anymore. On the contrary, many 'New Bollywood' films exhibit instances of what is known as 'toxic masculinity'. They still continue to portray masculine bias in both blatant and subtle forms and reinforce patriarchal conventions in a much more complex manner. Yet I would like to say that contemporary Indian cinema is breaking a new ground as far as representation of gender is concerned.
The arrival of digital media platforms (such as Netflix, Amazon or Alt Balaji) has also contributed immensely to the re-shaping of the gender issue. Female characters are not only carrying a film or a TV show forward but also they are often portrayed with agency. From Netflix series on Delhi crimes to Amazon's "Made in Heaven", the question of sexuality and gender imbalance is being critiqued with a more nuanced approach. Social media movements also influenced the film industry-especially Bollywood. Recently, it witnessed the impact of #MeToo movement as some producers, directors and actors were named and shamed by actresses who were sexually exploited by them.
How to talk on these topics so we educate people and not patronise them? How can the researchers contribute to that?
Researchers can play a huge role in disseminating the ideas about gender equity. Their engagement with academic institutions as well as with the stakeholders outside academia makes them act like a bridge. They are the purveyors of ideas that can bring phenomenal changes in the society. Moreover, small conscious-raising groups at the community level can generate awareness about everyday violence that women encounter both within and outside their homes. Besides, media can also further the issue of gender sensitization. In fact, media's positive intervention can yield better results as the chance of being obscure or densely theoretical is less obvious in this case. Affirmative portrayals of women in media are necessary to break the social stereotypes. Furthermore, mass media should also create a favorable environment so that discussions on gender and sexuality can be held without any fear of backlash. However, a more stable and prolonged impact can be created if academic courses on "Gender" are offered by universities.
What kind of experience have you had so far in teaching Gender Studies to Lithuanian students? What can you say about their reception of gender issues? Perhaps you could comment or compare this to your experience in teaching in other countries?
I am teaching this module to students who are pursuing MA in Digital Culture in Kaunas University of Technology. It's been so far a very satisfying experience. My students are energetic and most importantly they are willing to go beyond the prevailing social stereotypes in order to understand gender and the politics of identity. They watch films and lead discussions on issues related to gender and identity using feminist theories. The aim of this course is to make students think critically about gender and I believe my students have helped me enormously to accomplish this. I also taught in other countries including India and Bhutan. In Bhutan, I taught Feminism as part of a module called Literary Theory and Criticism. It was an equally fulfilling experience as students took great interest in learning about gender politics and its impact on our everyday life.
The topics of gender and contemporary Indian cinema will be analysed in the international conference "(Re)Gazing: Gender and Indian Cinema in the Age of New Media" in September 19-20, 2019 organised by Dr Šarūnas Paunksnis and Dr Runa Chakraborty Paunksnis. Read more here.