More than 220 participants introduced 40 innovative ideas in DELTA-1, the first in Lithuania defence hackathon, which took place earlier this month. Five of the teams were awarded monetary prizes and two of them received special prizes from the sponsors of the event. DELTA-1 was organised by Kaunas University of Technology (KTU), Lithuanian Ministry of National Defence and Lithuanian Armed Forces.
More than 400 people had registered to participate in the first Lithuanian defence hackathon, more than 220 were chosen as participants, the majority of them – IT specialists. Most participants already arrived to the Hackathon with their teams formed from the professionals from design, mechanical engineering, biomedical engineering and other fields. Some of the teams joined their competences together on the site.
The main prize – 2,000 euros established by the Lithuanian Ministry of National Defence – was bestowed to the Holobeam team, which introduced the solution of converting phone pictures made in the darkness into the high-res images. The winning team of researchers are representing the fields of artificial intelligence, data science, biotechnologies and 3D design. The AI-based idea was praised for its uniqueness, as the technology is entirely different from current image editing programmes.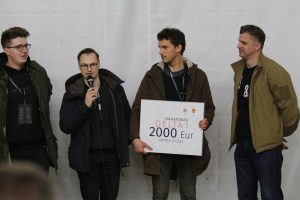 "We have developed a prototype, which doesn't have a graphic interface, therefore, for the user it might be difficult to convert night pictures. We aim to create a useful tool for Lithuanian Armed Forces, therefore we will attempt to make this solution as user-friendly as possible", said Laurynas Karpus the representative of Holobeam.
DELTA-1 hackathon took place at Lithuanian Duke Vaidotas Mechanized Infantry Battalion in Rukla on April 12–14. During the first day, the representatives of Lithuanian Armed Forces introduced the participants to the military activities including physical competitions, weapons and military transport. The 40 teams were assisted by mentors, business and army representatives, defence technologies experts.
The board of experts from KTU, Lithuanian Ministry of National Defence, Lithuanian Armed Forces and Centric IT Solutions Lithuania were evaluating the ideas on their final pitch on Sunday.