"Once you become a part of a close community, you understand even the jokes," says Nóra Emilia Nagybákay from Hungary, who has been living in Kaunas for more than two years. A chemical engineering PhD student at KTU, says that being a researcher is both challenging and fun – you fail many times before finally succeeding, and then, you still need to work hard to make sense of data! It is worth it, though.
"During our studies, we are required to spend time abroad as well, strengthening collaborations between universities and even the industry. For me, that is an exciting prospect. I look forward to the novel inventions that are yet to come and I hope to be able to contribute to them in a meaningful way", says the young researcher, who has co-authored a scientific publication (more are on the way) and developed a couple of novel food products.
After graduating from master's in Food Science and Safety, Nagybákay decided to stay at Kaunas University of Technology (KTU) for PhD studies – to gain more experience in the field of research she is working in and to acquire new skills in other fields that might be useful for a career both in academia and industry.
The free time that she has from research activities at KTU labs, she likes cooking, eating together with friends or exploring Kaunas and the surrounding areas.
"In better weather, we ride bikes or take trips to the countryside; during winter, we skate on the frozen lake, Kauno Marios," says Nóra, to whom Lithuanian nature was one of the top attractions while choosing a university for studying abroad.
Developed and introduced novel products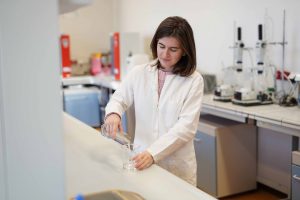 "While I was looking for a master's abroad, after obtaining my bachelor's degree in Food Engineering in Hungary, the KTU Master's course in Food Science and Safety grabbed my attention. It is designed to focus your time on research while also taking the fundamental subjects, and this seemed like a perfect fit for me. Also, I read about the beautiful Lithuanian forests and lakes," Nóra remembers taking her decision to come to study in Lithuania in 2019.
As an EU citizen, she didn't need to pay tuition fees nor apply for a visa to study and live in Kaunas.
Nóra calls studying master's at KTU a "quite hands-on" experience: "I spent the time between classes in the laboratory of the Functional Food Materials Research Group, working on the master thesis under the guidance of my supervisor. I learned a lot while navigating through the experiments with helpful colleagues."
Besides, during her studies, Nóra was involved in developing new products and had a chance to introduce two of them – a sweet instant buckwheat porridge and a bioactive hop extract – at the Technorama exhibition contest, organised by KTU. She has also been participating in the Lithuanian National Student Scientific Conference "Chemistry and Chemical Technology 2021", and in a Summer School in Estonia.
"It is great to be able to showcase our work effectively; student conferences and similar events are there for us to see what everyone else is doing, to reveal not just the good but the weak parts of our work and get new insights," says Nagybákay.
"My lab coat smelled of hops!"
Now, a full-time PhD student, Nóra says that the most challenging aspect of being a researcher is time management – one needs to develop this skill to be successful. The most exciting aspect of a researcher's life, according to her, is being able to witness the discovery.
"Although at first, a failed experiment is also interesting (why did it happen?), it gets a bit annoying if it continues to fail. When things finally work, there comes 'Eureka!' moment, but you still need to make sense of your data," explains Nóra.
During her master's, Nóra's research subject was related to the recovery of valuable antioxidants and other components from hops (you may have heard of it as a key ingredient in beer). She was working on the optimisation of an extraction method, so the final product was rich in phytochemicals and could be used in food, pharmaceutical, nutraceutical, and cosmetic products.
"You can guess that my lab coat smelled a lot like hops," smiles the young researcher.
For her PhD, Nóra is studying biorefining of birch buds and leaves into higher value-added components and their use in the development of functional products. The complicated topic speaks of a valuable goal: to turn by-products and waste materials from agricultural and food industries into products suitable for human consumption.
Before coming, get in touch with student ambassadors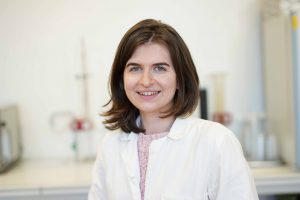 Despite being busy working at the lab, the young researcher values quality free time, although not always it needs to be related to doing something special: "Sometimes I just curl up with a good book or try not to watch too many episodes of a TV series."
Having lived in Kaunas for more than two years, she almost feels at home here.
"In my first year, I once listened to a lecture about the making of the Lithuanian dark rye bread, and for me, it was all new, not so for my Lithuanian classmates. I am originally from Hungary, am studying in English in Lithuania, so I guess, my experience is a bit different from that of the locals'. However, once you become a part of a close community, you understand more and more, even the jokes," says Nóra, adding that she is even hoping to learn some Lithuanian.
Besides hiking and bicycling, cooking is something that the future food engineer feels passionate about: "I have international and Lithuanian friends – we sometimes cook and eat together, for example making pizza from scratch."
When things finally work, there comes 'Eureka!' moment, but you still need to make sense of your data.

– KTU student Nóra Nagybákay from Hungary
For those, who are considering taking the adventure and studying in Lithuania, at KTU, she advises carefully checking all the University and visa/residency permit requirements. She encourages getting in touch with KTU student ambassadors – in such a way you will find out more about international student life here.
If you are thinking about PhD studies, Nóra recommends checking out the published scientific papers in your chosen field to know more about the work, the equipment, and the study and research options that the University offers and contacting the future possible supervisors.
"And when you come, be prepared to get a warm coat and boots for winter (yes, it can be quite cold, but it is worth it for all the snow and frozen lakes). Also, don't forget your swimming shorts for Summer", smiles the Hungarian student, who has been living in Kaunas for more than two years now.
____________
Interested in joining the KTU community? Admissions to Spring Semester are open until December 15, 2021. Choose your programme and apply today.